Staying Safe: How to Have a Great Move
Staying Safe: How to Have a Great Move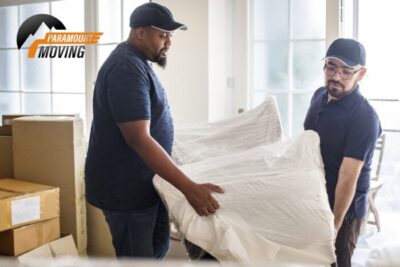 How to Have a Great Move – Safety tips from Safety-Consious Moving Company
It has been often said: "Life is full of risks." A safety-conscious moving company knows this and competent movers know the challenges of any move regardless of its difficulty. It's hard work moving heavy things. They can be awkward, fragile, and even a bit dangerous to move around. Paramount Movers wants your move to be as safe and stress-free as possible. We have sat down with our professional staff and come up with some things to keep in mind about moving safely. We believe these tips will reduce the risks both during and even after this pandemic.
1. Move Things with Others, not Alone
You look at that bed or treadmill or even a set of dressers and sigh, "How will I ever move that thing?" That's when you need to think: I need more help, professional help. All too frequently, failed attempts to move heavy objects may be costly. Those costs may come from injuries caused by trying to move those heavy things or from damage that may result if things go wrong. All of these could go well above the cost of investing in hiring safety-conscious movers. You are investing in professionals who are trained to safely move all your belongings, whether it's a collection of wine bottles or a set of lamps.
2. Keep drinking water with added minerals
Not only does moving require lots of energy, but also lots of water. You will feel both tired and thirsty. Every moving company concerned with safety knows this: Drinking water will help, but replace certain minerals, too. A sports drink with the minerals you need will help you. You may simply want to add a little bit of iodized salt to your water. The key: keep drinking water, but don't forget to add minerals, as well.
3. Wear enough comfortable clothes
Competent movers in Calgary know this: "Always wear layers." For Calgary winters, this is very important, but it's also important for the summertime, too. As the day goes on, you can take off or put on your different layers and stay comfortable. Choose safe and comfortable footwear: open-toed sandals are comfortable, but not all that safe. We do not advise wearing baggy clothing. Parts of these overly-loose clothes can catch on corners and trip you up or be ripped. If you're not sure what's appropriate–ask us. We'll be glad to help you.
4. Keep Walkways Clear
Paramount Moving is a safety-conscious moving company, so we sometimes see things that others may overlook. Take special care to be sure that all the walkways you are using are clutter-free. The stray toy or the misplaced coffee mug on the floor can cause all kinds of trouble if tripped over. That simple stumble may be more than a bother — it could be dangerous.
5. Prepare and Keep and First Aid Kit Near You
While you are making your moving plans, take time to prepare a first-aid kit. Check online to find out what you can put together to prepare for your move. The Red Cross can also provide a booklet on quick first aid to include with your special kit.
6. Keep Boxes Reasonably Packed
You may want to pack a box as much as you can. Keep this phrase in mind: "Just because you can, doesn't mean you should." As competent movers, we advise that you keep your items in your box balanced and that the boxes themselves are of a reasonable weight. This way you avoid the frustration and the danger of a box breaking open as you are moving it.
7. Give Movers Room to Move
While it is true that "many hands make light work", this is not a regular "family chore." This is a time when a safety-conscious moving company needs to take over. You have made careful preparations. You made sure everyone helped get ready for moving day. Now? It's our turn. You can enjoy a stress-free day. Go to a park, have a picnic, relax, knowing that your move is in the hands of people who care about your belongings, both as they leave one place and arrive at another.
8. Refresh the Air, Improve the Safety
Because we are a moving company concerned with the safety of our clients, we know about many other aspects of moving safely. For example, the Public Health Agency of Canada (PHAC) strongly recommends that indoor air be replaced regularly with outdoor air. This not only means that windows and doors remain open for fresh air to flow into your home, but that fans can be wisely placed and used to circulate fresh air to help enhance keeping the air clean as we help you move.
Above All: Trust the Pros
At Paramount Moving, a safety-conscious moving company in Calgary, you will find that moving with us is more efficient, economical, and stress-free. We work with you so that Moving Day will be a great day! Planning that big move? Call Paramount Moving…today!