Last Minute Moving Services
PROFESSIONAL MOVING SERVICES MOVERS YOU CAN COUNT ON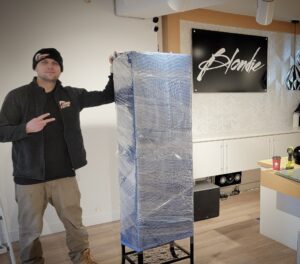 Be sure of this: life is change. One day you are happy in your Calgary home and office, and the next day you find out…you need to move…soon. Paramount Moving understands your challenge to find a last-minute moving services provider in Calgary, and we are here to provide the help you need.
We will work with your budget, so whether your move is a local one or involves a long-distance move, our staff at Paramount Moving will help you get ready for your Moving Day.
WHY OUR LAST MINUTE MOVERS IN CALGARY IS THE BEST CHOICE FOR YOU?
If you had the time, you could probably get from one place to the other. However, time is not on your side, but as skilled last-minute movers in Calgary, we are! From our first meeting to our final parting handshake, we are dedicated to making sure your move is as stress-free as possible. Our first step is to build a team, one that works well together. 
For a last-minute relocation, we have learned over the years that planning any move is the biggest challenge. During that time, we have also developed strategies to help our clients plan and organize their moves efficiently, regardless of the time needed. With our help you can be sure you have this kind of team working with you:
Experienced

: We know what will work for you, what materials to recommend, what kind of schedule to suggest, andwhether it's a local or long-distance move.

Dependable and Professional:

You can be assured of a professional approach and attitude from us as we work together to reduce the stress of your move

Client-centred:

Our smiles are genuine because we are thinking of you. We care about moving your belongings as if they were our own.

Diligent to serve you:

You may call us "hard-working," but we use all our skills, energies, and equipment to serve you and move you well to your new location

Innovative:

No matter what difficulties you may have, we are a team who will work with you to find the best solution to work with your unique challenges. 

Safe and COVID-sensitive:

We are well aware of the hidden risks and the unforeseen dangers in your last-minute move, even with COVID restrictions.
MAKE YOUR MOVE EASY WITH QUICK MOVERS IN CALGARY
You may think your job is too small, "It's just a few boxes, but I just don't have the time to get to them!" We understand. We also know you may have a whole house to move to or an office full of file boxes and delicate equipment. Quick movers in Calgary Paramount Moving will create a budget for your last-minute move and help you start with your plans to relocate. We'll help you work with the time pressure you feel. We will support you as a company that is capable, dependable, and affordable. Get to know more about all our moving services on our website.
CONTACT OUR SAME DAY MOVING COMPANY RIGHT NOW
As one of the best fast movers in Calgary, Paramount Moving looks forward to hearing from you. We're just a few clicks away and your best choice to get the help you need. Give us a call…and let's chat.