Moving Boxes and Supplies
PROFESSIONAL MOVING SERVICES MOVERS YOU CAN COUNT ON
Paramount Moving offers a wide selection of competitively priced moving boxes and packing supplies including tape, packing paper, markers, paper pads, bubble wrap, and stretch wrap.
Remember, as you pack — the heavier the item, the smaller the box.
Use the box guide which follows to figure out how many boxes you need to pack up for your move.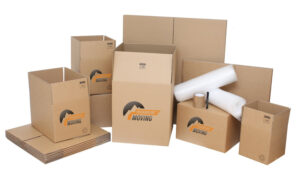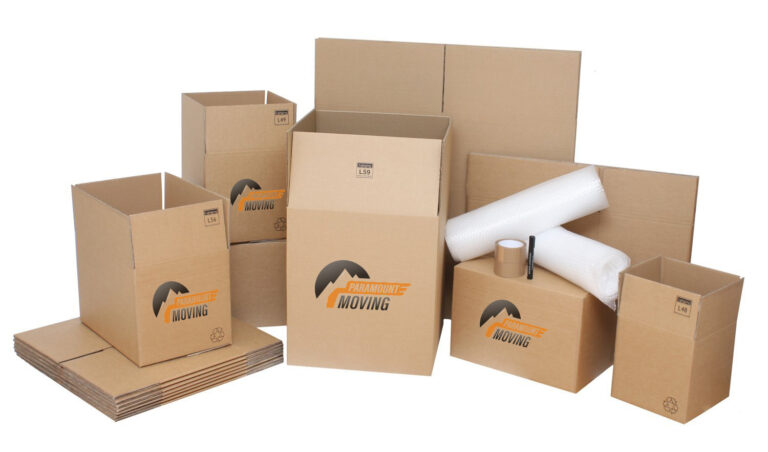 Find Out How Many Packing Boxes do you need to Buy
< 500
500 - 999
1000 - 1499
1500 - 1999
2000+
LARGE BOXES
3 - 12
5 - 15
10 - 20
15 - 25
20 - 30
MEDIUM BOXES
8 - 15
10 - 12
15 - 25
20 - 30
25 - 35
SMALL BOXES
12 - 18
12 - 25
20 - 30
30 - 40
40 - 50
DISH BARREL
2 - 5
3 - 6
4 - 6
5 - 7
6 - 9
WADROBE
3 - 5
3 - 6
5 - 7
6 - 10
8 - 12
Where to Get Moving Boxes?
Are you planning to move but still do not know where to get moving boxes? Our company offers standard boxes in various sizes and shapes suitable for residential and commercial moves.
1.5 cubic foot moving box:
The smallest box sold at Paramount Moving is often referred to as the book or record box; it's best used for small, heavy objects such as books, records, cans, jars of food, utensils, flatware, and shoes.
3 cubic foot moving box:
Referred to as the lamp or lampshade box; it's frequently used interchangeably with the 1.5 cubic foot box.
4.5 cubic foot moving box:
As the box gets larger, use it for lighter objects, such as pillows, bedding. and stuffed animals
6 cubic foot box:
Use for light objects; if you pack heavy items in this box, it will be difficult to move and may break.
Picture or mirror moving box:
A four-piece box that can come in large or small sizes (small shown); it can be customized by telescoping in and out. Use crumpled packing paper in the corners to add cushion, and make sure to wrap your mirror or picture with bubble wrap before placing it in the box.
Wardrobe moving boxes:
Allows clothes to be transported on hangers; it includes a metal bar along the top of the box to hang clothing.
Boxes for moving dishes
Referred to as a barrel, dish barrel or dish box; it's the strongest box available. Pack fragile or potentially breakable items such as thin, plastic objects; it's usually used for kitchen items.
Dish pack inserts
Cardboard that goes inside the dish pack boxes and helps to form individual cells for fragile items; the inserts are adjustable. May have an extra cardboard piece included to use to cushion fragile objects.
Moving supplies in Calgary for all occasions
Packing paper/plain newsprint
used to wrap everyday items to prevent scratching; when crunched up it can be used as cushioning.
Tissue paper
softer than newsprint; used for wrapping very delicate items. It also provides further cushioning and fills in small spaces when packing fragile figurines and china, and glassware.
Bubble wrap
plastic packing material made up many tiny "air cushions" or bubbles used to over-wrap small, delicate items after they are wrapped in tissue. It is also helpful when wrapping larger fragile items, such as lamps and pictures.
Pink anti-static bubble wrap
used to wrap electronics, including stereos and computers. It is similar to traditional bubble wrap, but does not cause static electricity. If traditional bubble wrap is used to pack these items, a static electric charge could be created, damaging the item.
Packing tape/sealing tape
plastic tape, 1.5 inches (3.81 cm) to 2 inches (5.08 cm) wide; it's best for packing. Test to see if the tape ruins a finish before taping up certain things, such as drawers or canisters.
Permanent marker
used to label boxes describing contents and helping the movers to know the destination in the new residence. Remember to mark boxes using the labels "Fragile" or "This side up" wherever appropriate.
Re-sealable plastic bags
used for nuts and bolts as you disassemble items; tape the bag to the disassembled item, being careful to avoid damaging the finished surface.
If you want to be sure of the safety of your belongings and save your time, order a professional packing help from Paramount Moving.