GET RESULTS YOU DESERVE WITH OUR QUALITY SERVICES AND AFFORDABLE PRICE
Blended Lives: A Quick Guide for Moving in Together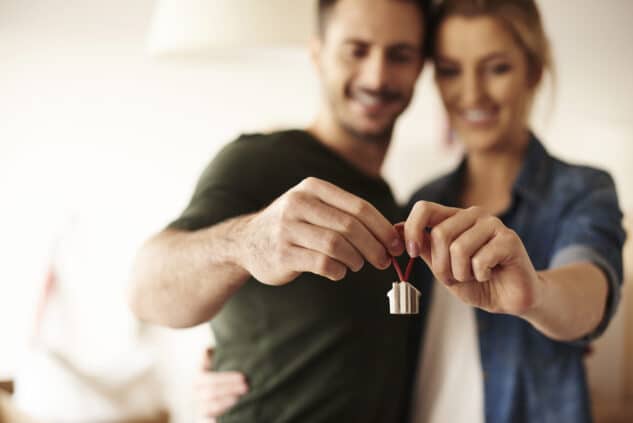 For whatever reason, you have come to that place in your life when you are entering into a new kind of lifestyle: a "shared household" or "blended living." You have lived well enough on your own, perhaps, but now that chapter of your life is ending and you are starting a new chapter, and you are looking for both practical advice and some shared wisdom. Both of you may realize there are some unique challenges facing you as you begin moving in to live together.
At Paramount Moving, we have some wisdom to share and some advice to give, so here are our suggestions and thoughts about this new stage of your lives.
Plan for a Wonderful Life when moving in together, not a Wandered-in Life
There is a phrase that has been coined: "Decide rather than slide," Make plans, carefully thought-out decisions to create this new living arrangement. Experts on human relations often caution people to avoid finding one another in the other's living space. Later on, they may each decide to make arrangements to work on a more settled or a bit more permanent living situation. This kind of life, where one person wanders into the life of the other, often fails to create a sense of stability, essential to developing a healthy living relationship. The expense of moving in may be wasted if there is no plan in place to help create mutually agreed-upon reasons to be together.
Same space, New perspectives when moving in together
It's great to be able to find a new place that is ready for building fresh and beautiful memories. Usually, though, what happens is more of a matter of moving into someone else's world. Our advice is that you both see this experience as creating a new environment rather than working with an old environment with some new stuff added on. 
The person moving in should have an equal say about what stays and what goes, how to decorate, etc. They should feel the space is theirs as much as it is their partner's."
Concepcion also recommends signing a lease together on a new place and doing so intentionally. "Look at when your leases expire and plan a date when you'll move in together. If one of your leases ends sooner, ask your landlord for a few extra months where you can pay rent month to month. Then, if the time rolls around and one of you gets cold feet, you still have a place to live," she advises.
Have a conversation about which furniture you'll bring, what you'll store, and what you'll buy together. Moving in together is a great time to downsize, get rid of stuff, or get a storage unit to keep larger items you won't need in your new place together. You'll also want to plan your moving process, whether you're moving locally or long-distance. Will you need to rent a truck, hire full-service movers, or use a portable moving container to make downsizing and storage easier?
One Can be Better than Two: Dealing with Unnecessary or Duplicate Items when moving in together
Perhaps your bachelor apartment was already full of things before the big move. Perhaps you had a great gym set-up…and so did the person you are now living with. You may have much more space now than either of you had before, but keep some things in mind and decide on these things:
What is shared and what is personal?

Depending on the kind of blended household you have, you may need to make some boundaries: This is for me…this is for us. Having your own personal computer is fine,  but If you have two TVs or sound systems, that's something to talk about.

What needs to be stored and what will fill up the new space?

For some blended living arrangements, there may not be room for some things to be displayed or used in your new residence. This is especially true for exercise equipment or different kinds of collections from figurines to DVDs and CDs.

What needs to be kept, donated, recycled or even thrown away? 

You need to reduce the number of things you bring into this new household before you move in together.  On your own, before the move, take the time to look through all your personal belongings and decide what you want to keep, give away, or throw away. You may wish to get together with your new partner and think about what will be good to have in this new place. 
Money Matters
It may be obvious and difficult, but the financial aspects of your new living arrangement need to be discussed carefully. Frequently, some couples combine their financial accounts when moving in together, other partners may create joint accounts. Others need to keep them entirely separate, but have some kind of transparency, for example, proof of payment for certain items or services. 
Remember, stay open about money and your household finances. Here are some areas to consider, particularly how and when:
Rent or mortgage or home payments

Different kinds of residence insurance

Utility payments

Electronic services: WiFi and home entertainment

Groceries

Transportation: shared or shared vehicles, public transit

Hospitality: special get-togethers and parties

Special areas: pet care 
Shared responsibilities: From Vacuuming to Washing Dishes
Who changes the roll of toilet paper? Who checks the doors at night? These questions need to be part of an open and clear conversation about how you both work together. Take the time to outline the different daily tasks that need to be taken care of during the time ahead. Taking care of this early on, and learning how to live together in this new living arrangement, will help reduce future conflicts.
Paramount Moving Cares
We are in the business of helping you transition from one lifestyle to another, from one location to another. We are very familiar with the stress of change. If you need further help with how to plan your blended lives, give us a call, and we as professional Calgary movers will be happy to help you.
We're Paramount Moving: We Help Move You to Build Your Dreams.