Is It Worth Buying Boxes for Moving?
GET RESULTS YOU DESERVE WITH OUR QUALITY SERVICES AND AFFORDABLE PRICE
Is It Worth Buying Boxes for Moving?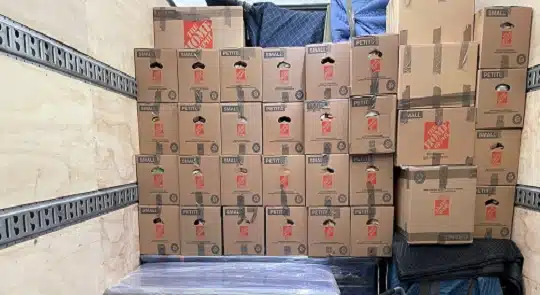 If you're in the process of moving, you may be thinking about the easiest way to go about it. Boxes? Laundry bags? Totes? Luggage? What is the best way to move your things to a new house? Is it worth buying boxes for moving?
Buying boxes is an essential part of the moving process. Quality boxes are easy to carry, stack, and move efficiently. Newer boxes are strong, heavy-duty, and easy to identify, while old, used boxes are often mislabeled and flimsy, causing them to break during the move.
New boxes are strong and heavy-duty and can be easily stacked and moved from place to place with a dolly. Older boxes are more flimsy and frequently have labels that confuse you while moving things from place to place. Keep reading to learn more about the pros and cons of buying boxes, where you can buy them, and alternatives to boxes for moving.
What Are The Pros and Cons of Old and New Boxes?
Boxes may seem bulky and obnoxious, but really, they make moving a whole lot easier. Although, you may not want to use those old boxes from your previous move.
Think about it: cardboard loses its sturdiness after a long time, so those old boxes probably won't be the best when it comes to moving your things.
Some disadvantages of reusing boxes are:
They are soft and flimsy
They are hard to stack
They have been labeled before, making it hard to identify them
They are dirty and may have bugs or mold
No uniform sizes
While used boxes may get your items from point A to point B, it may be difficult to stack and identify once you have finished moving.
Old boxes often get cockroaches, spiders, dirt, and other grime you may want to avoid bringing into your new house.
Plus, old boxes do not have the uniform size you would get when purchasing new boxes. The uniform size makes it easy to stack, organize, and move the boxes from place to place.
If this hasn't convinced you enough, look at the pros and cons of buying boxes compared to using old ones.
Pros and Cons of Buying New Boxes
Pros
Cons
Sturdy and easy to stack
Costly
Clean
Easy to identify and label
Uniform sizes
Specialty boxes available
The only drawback of purchasing new boxes is that you have to pay for them. No, cardboard boxes aren't expensive, but buying a lot of them can definitely add up.
Regardless, purchasing new boxes ensures that your items will arrive safely in your new home due to their sturdy structure and uniform size for stacking.
Regardless, purchasing new boxes ensures that your items will arrive safely in your new home due to their sturdy structure and uniform size for stacking.
How Much Do Moving Boxes Cost?
Most cardboard boxes are relatively cheap, but buying many will cost you a pretty penny.
Here is a list of prices for individual boxes from Home Depot:
Small $1.75
Medium $2.65
Large $3.55
Extra Large $5.25
If you need an assortment of 4 small, 4 medium, 4 large, and 4 extra large boxes, the total cost for only 16 boxes would be around $40. And it doesn't include any other packing supplies that you may need, like bubble wrap, foam pouches or tape.
Luckily, there are many places where you can buy your boxes in bulk to save you some extra cash.
The following websites sell moving kits or boxes in bulk and include some packaging supplies:
Amazon
Home Depot
Ecompak
The price varies for the number of boxes purchased, but purchasing a moving kit can save you money in the long run.
Can I Reuse Boxes Instead of Buying Them
While you may not want to purchase new boxes, avoid using OLD boxes, as they aren't as sturdy and easy to pack.
You can reuse boxes and even find cheaper used boxes online. It is eco-friendly, and they sell quality inspected USED moving boxes.
If you are determined not to buy cardboard boxes, explore social media posts and marketplaces like Facebook Marketplace.
In doing so, you'll be able to see the boxes yourself, test the quality, and determine if it's better than buying boxes.
Remember, when you move, those dirty, old boxes should be tossed in the garbage and replaced with new ones.
Alternatives to Cardboard Boxes for Moving
Cardboard boxes aren't the most eco-friendly moving solution, especially if you only use them once. If so, make sure to recycle them when you are done.
Fortunately, there are various alternatives to cardboard boxes for moving, such as:
Crate rentals
Reusable storage bins
Plastic moving boxes
You can rent moving crates from many moving centers like U-Haul. Not only is it sustainable because the containers are plastic and reused, but they are also weather-resistant and easy to stack.
Prices will vary with each company, but renting crates costs around the same as purchasing cardboard boxes.
Another alternative to cardboard boxes is purchasing reusable storage bins or plastic moving.
However, plastic storage bins are more expensive and typically range from $3-$6 per box and are hard to store away once you are done. The bright side is that you can reuse them in the future.
Final Thoughts
Moving is a costly process, and the thought of having to buy boxes can be unappealing to anyone. Yet, in all reality, new boxes are worth it as they are easy to stack and sturdy enough to prevent any damage to your items throughout the move. If you can't justify the cost of the cardboard boxes, then consider renting moving crates from a moving center. You can avoid all these problems if you hire movers in Vancouver or Calgary from Paramount Moving. Whatever you choose, happy moving!