Vancouver to Calgary Movers
PROFESSIONAL MOVING SERVICES MOVERS YOU CAN COUNT ON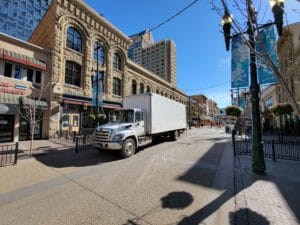 For whatever reason, you are needing to move from Vancouver to Calgary. So many questions come to mind. Can we do this ourselves? Do we need professional Vancouver to Calgary movers? How much will this cost? How long will it take? What long-distance furniture moving company do we hire?
We are Paramount Moving, and we are in the business of helping you with those questions. Our company have both the reputation and the skills you can rely on to make your move from Vancouver to Calgary as stress-free as possible.
We will work with you to come up with the best plan for your move. On one hand, you may wish to hire us for our professional, well-trained and qualified team of movers and our full-service moving package. On the other hand, you may choose to pack yourself and check out our website for guidance about that. Whatever you choose to do, if you hire us your Vancouver to Calgary movers, you can be sure we will take good care of your belongings. They will be securely packed into our well-maintained trucks and arrive at your new location in the same condition as they left. 
Check us out now at paramountmoving.ca, or call us at (403) 618 5182. 
Our Vancouver to Calgary moving company Difference: Prompt, efficient, safe.
We are an experienced long-distance furniture moving company, so we understand the concerns you have and the stresses you face moving from Vancouver, B.C. to Calgary, Alberta. We work with you to create a workable budget and arrange delivery dates that will help us move you efficiently and safely.  
The Paramount Moving difference is more than a promise: we are committed to five core values that guide us to serve you best: trust, integrity, reliability, teamwork, and care.
Our Core Values in Action
You can trust that your belongings are safe with professional Vancouver to Calgary movers.
At Paramount Moving, one of the premier Vancouver to Calgary movers, we rely on the personal touch. Our moving team will promptly arrive at your residence with a smile and clean uniforms. With our full-service packing system, each item in your home is safely packed away. At your residence, we protect walls, floors, and doorways as much as possible from any kind of damage.  
Each box is clearly labelled so that kitchenware and living room furnishings end up where they belong. This is our integrity in action. Boxes and crates are safely and securely loaded into our trucks. Some items will be given extra care and will be wrapped in special moving blankets. Once we secure each item in our truck,  we will transport your belongings with professional skills to your new Calgary location.
Fragile items? Bulky items? We'll take care of each one.
When it comes to fragile items, such as glass, framed pictures, and valuable works of art, such as decorative vases, we are confident to pack them, store them in our truck, transport them, and then unpack them at your new home for your Vancouver to Calgary move. At Paramount Moving, we use high-quality, top-grade materials to pack and protect each item we need to transport and store in our truck. We have innovative and effective ways to take care of your unique moving needs.
We offer Full-Service Packing for your moving from Vancouver to Calgary
Perhaps you may need help packing up your entire residence, or maybe just the living room, or only a single difficult-to-move item. You can depend on our skilled movers at Paramount to work with you. The premier service that we offer to help reduce the stress of moving is our full-service and custom packing. How does it work? First, we take an inventory of your residence determining the kind of packing that needs to be done. Next, on your moving day, our experienced, reliable, skillful and well-equipped moving team will arrive at your home, ready to pack each item professionally. When your belongings arrive in Calgary, our full-service package also involves unpacking your furnishings at your new location. You will find that Paramount Moving is a reliable long-distance furniture moving company, especially from Vancouver to Calgary. 
Check out our website, at paramountmoving.ca and you can see it for yourself. If you are looking for a company that can help you to move from Vancouver to Calgary, contact us at (403) 618 5182.
Choose a reliable Vancouver to Calgary moving company to Avoid "the Surprises."
Some moving companies make their moving policies, billing procedures, and various fees and charges so confusing and difficult to understand. We value the integrity of showing you each charge and all the costs involved in your move. The last thing anyone wants is "the surprise", being charged for something that seems both unfair and unnecessary. We provide transparent charges so that you don't experience any nasty charges on the day of the move. We will even help you work through a moving budget. You will know the amount of money you need to save or set aside for your moving day. 
Contact us at  paramountmoving.ca or at (403) 618 5182 and talk with us about what you can expect if you choose us as your Vancouver to Calgary movers.
We are located in Calgary, but you can feel free to contact us if you need Chestermere moving services or any other city. Check the full list of locations where we work on the site.