GET RESULTS YOU DESERVE WITH OUR QUALITY SERVICES AND AFFORDABLE PRICE
How to Move an Office and Stay on Budget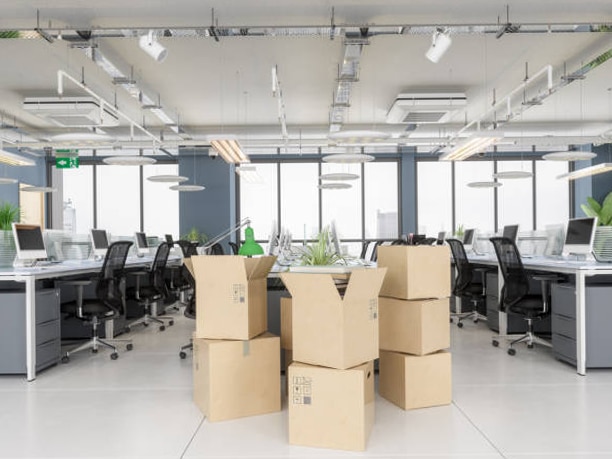 Get ready for a great day!
Celebrate! You look around and you see how big your company has grown! Well done! Along with that growth, you realize you have a new opportunity for growth: finding an even better space to expand. Now, its time to find out how to move an office? It will mean relocating your entire office but you have faced other challenges, and Paramount Moving, one of Calgary's premier office moving companies, is ready to take you to that next level.
We understand how you want to keep your business going, even while we are moving you. Our team is ready to help you with that challenge, too. We are ready to help you move all those office supplies, every chair, and desk, every piece of equipment big and small.  At this time of both an at-home or in-office business, we realize that your office might need to be closed. We understand your concerns that this move will disrupt your business for a few days while every piece of equipment is being installed at your new location. We care about your office and business as if it were our own.
So, what will Paramount Moving, your Calgary office moving company, do for you?
With Paramount Moving, you can count on us helping you in these ways:
Mapping out your move with you, long before our trucks and crew arrive

Using our expertise to guide you, looking over your old and new office spaces,

Surveying your inventory, logging it down, analyzing your moving needs.

Creating a guaranteed quote from all our research,

Offering our expertise to answer your questions about logistics, time, and costs.

Provide our full-service moving package, if you choose that option, or explain our various packing alternatives.
When "Moving Day" arrives
When the day of your move arrives, our professional and skilled movers will efficiently take care of your office move. Guided by our five key values, TRUST, INTEGRITY, RELIABILITY, TEAMWORK, and CARE we are dedicated to keeping your schedule, budget, moving goals and plans in mind. Because we are one of Calgary's top-of-the-line moving companies, at Paramount Moving we fully understand that each minute counts, each dollar spent needs to be used well, and each client and each element of your business needs to transition smoothly from one location to another.
The Paramount Promises              
1. Efficient and innovative moving strategies    
At Paramount Moving, we strive to get you to your new location, using efficient and innovative approaches. There will be challenges, but you can count on our moving team to find the best way to work around each of those challenges. We often turn to often-overlooked approaches long before the move begins and even during the move itself.
2. Skilled office set-up
Your main goal is to have your new office set up according to your own plans. We want that for you, too. We keep your goals in mind. What is our #1 priority as one of Calgary's exceptional office moving companies? It is to give you a smoother and stress-reduced transfer from your older location to your newer one. With years of experience, we use various strategies to pack away any piece of office equipment or furniture, all well-labeled. You can rely on us to transport, unload and set up your office equipment exactly as you tell us, in your new office setting.
3. Protection of your equipment
From filing cabinets to filing boxes, from trophies in display cases to special mementos in your office…to us they are the same: your treasures, and we treat them that way. In fact, we will move your office as if it were our own. We use the best materials to pack and protect everything you own that we need to move. Paramount Moving will put down special protection for floors, walls, and doors. We will confidently pack away each item and expertly carry each heavy box from your office location, to our truck, and then into your new office space. We stand by our pledge that your possessions will arrive in the same condition as they were in your previous location. As your Calgary office movers, the time we take to move you can be the time you use getting more comfortable with your new office space and all the amenities around it. 
We are Paramount Moving: We can move mountains…one rock at a time!