11 Common Moving Mistakes To Avoid
GET RESULTS YOU DESERVE WITH OUR QUALITY SERVICES AND AFFORDABLE PRICE
11 Common Moving Mistakes To Avoid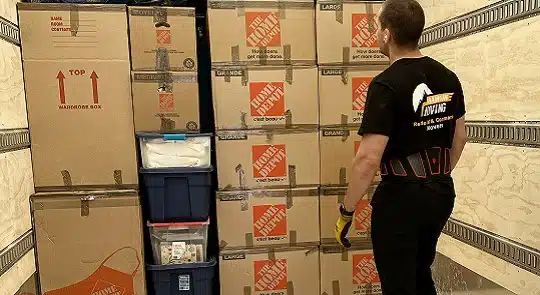 Moving house can be an intimidating task. There's a lot to do and a limited amount of time to complete it all. With so much going on, it's easy to make mistakes. But these slip-ups can cause big problems down the road. Adding to your stress.
The good news is that this doesn't have to happen. A little preparation is all it takes to prevent these mistakes. Keep reading to learn how to avoid these blunders to have a stress-free move.
Mistake 1: Trying To Pack Everything
Moving is a great opportunity to cut down on the amount of clutter you have. Think critically about the items you are taking. Do you really need them? If the answer is no, you have a few options. Donate it to charity. Or have a yard sale. Make a few extra bucks to help you pay for the move.
Mistake 2: Not Having A Packing Plan
Packing before a move is a big task. Trying to do it haphazardly is a recipe for disaster. Instead, create a methodical plan. Think about what room you use the least. Start packing there, working your way to your most-used areas. Leave your most frequently used items until last. When doing a packing plan, have an idea of how long it takes to pack each room. If in doubt, overestimate the amount of time it will take.
Mistake 3: No Mover's Insurance
Accidents happen. No matter how carefully you pack your items, there is a chance that they will get damaged during transit. That's where mover's insurance comes in. Getting the money to repair or replace your broken items. Some movers will come with insurance. Others won't. Check with your mover to see if you need to take out cover.
Mistake 4: Forgetting To Label Boxes
Failing to label your boxes is a recipe for disaster. Expect a sea of boxes and no idea where to put any of them. Thankfully, it's an easy fix.
Once you've finished packing, write which room you want to put the box in. Don't forget to write if it's fragile. That lets the movers know they need to handle it with care.
Mistake 5: Leaving Packing Too Late
Packing will take some time. Procrastinating will just compound your problems in the future. Trying to pack everything in a few hours is going to be chaotic. Stress levels will go through the roof. Going too fast will mean you can't wrap precious items correctly, causing breakages at the end of your move.
How long it takes to pack depends on the number of bedrooms you have. Here's a rough guide:
Studio apartment/one-bedroom moves: One to two days
Two-bedroom moves: Two to four days
Three-bedroom moves: Four to six days
Four bedrooms and over: At least seven days
Of course, size isn't all that matters. Plenty of valuable items? You might need a little more time to wrap everything properly. Or you can hire a professional moving team to help you pack fragile items. Not only will everything be packed properly, but you'll also cut down on your workload.
Some people make the opposite mistake. Packing their items too early. Forcing them to spend the days before the move scrounging through boxes to find what they need. If you want to start early, you can. Just stick to the non-essential items.
Mistake 6: Not Packing An Essentials Bag
There are some essentials you'll need to take with you. Things like your toothbrush, phone charger, medication, and food for your pets. The bare basics. Think of it like packing for a holiday. Everything you require is on hand. No need to unpack all your boxes on the first day.
Mistake 7: Waiting To Lock In A Moving Company
Give your moving company a call around three months before your move. Allow yourself plenty of time to lock in your preferred moving date. Remember, movers do more than just lift boxes and load the truck. They can provide packing materials. Some might even help you pack.
Mistake 8: Not Packing Your Valuables Properly
No one wants to have their fragile items damaged during the move. That's why the packing method is so important. Moving companies will provide high-quality cardboard boxes. Unlike inferior options, the bottom won't collapse during the move. Make sure to use packaging correctly. Tissue paper, packing paper, and bubble wrap should all be used to wrap your items. Use anti-static bubble wrap on your electronics.
Remember to clearly label your fragile boxes. You can always ask your mover for tips. They'll be happy to talk you through the correct wrapping approach. Better yet, they might even wrap your valuables for you.
Mistake 9: Not Switching Your Mailing Address
With so much going on, it can be easy to forget to switch your mailing address. But don't leave this too late. Canadians need to switch mailing addresses at least five days before a residential move. 10 days if you are planning a business move. Double-check that other parts of your new property are set up. For example, make sure that the utilities are connected.
Mistake 10: Blowing The Budget
Moving in Canada can be expensive. But that's no reason to blow the budget. Hiring movers will be one of your biggest costs. Maximizing value is easy. Get multiple quotes. Ask questions. Find out what is included. Ask about insurance. Check that there aren't any sneaky hidden fees. Then, you can pick the company that provides the best service at the best price. Of course, price shouldn't be the only factor to consider. Make sure that you choose a reputable company with plenty of moving experience.
Mistake 11: Trying To Handle The Move By Yourself
Some people think they can handle the move themselves. The appeal is obvious. No need to hire an expensive moving company. But the downsides will soon become apparent. You'll need to make several trips. Lift bulky items by yourself. Disassemble and reassemble furniture on your own. It'll add a lot of time and stress to the job.
Final Thoughts
Moving is stressful enough, without making any of these common mistakes. Hopefully, now that you know the basic blunders, you'll be able to avoid them. Allowing you to have a smooth move. Now there's just one thing left to do. Start packing! If you are interested in a professional moving company in Vancouver or Calgary, read more about our services on the website.