GET RESULTS YOU DESERVE WITH OUR QUALITY SERVICES AND AFFORDABLE PRICE
Moving With Kids: Helpful Hints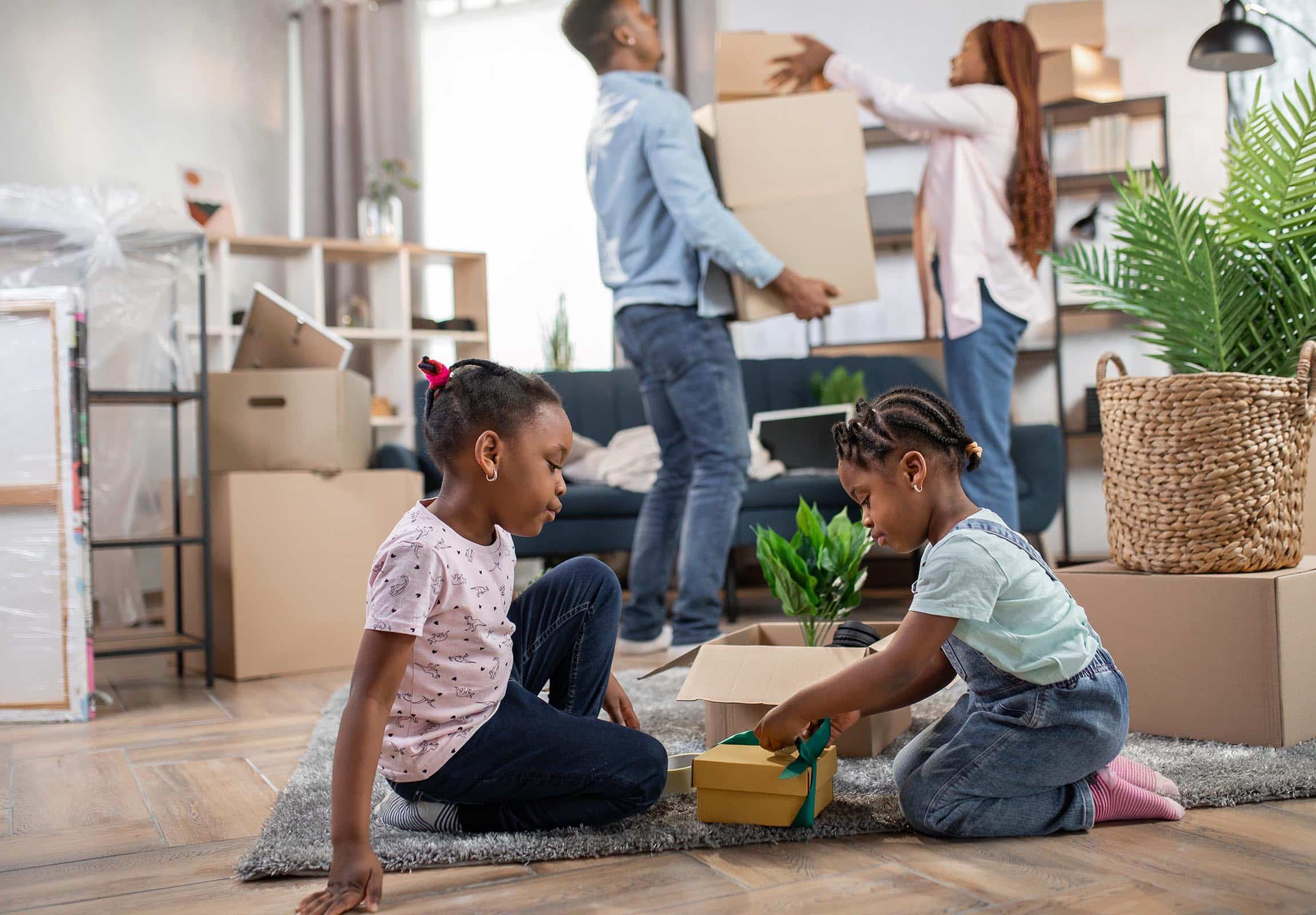 There are many challenges associated with moving: cost, time, and location. If you have children, now the challenges seem even greater, and you are right…if you avoid making a plan. At Paramount Moving, we can give you some great advice when it comes to moving with kids. With this advice, the process will be less stressful and may help to simplify things a bit more. However, there are really three groups to think about: babies to pre-teens, pre-teens to teenagers, and teenagers themselves. Keeping these three groups in mind, let's walk through the process of moving with kids and begin creating a moving plan that will work for you.
Be Organized when Moving with Kids
All moves are founded on a key principle: be organized. What does that involve?
Set aside lots of time.

Preparing to organize your move takes at least 6 to 8 weeks. 

Find the best movers for you.

There are many companies to choose from, so it is important to research.

Set up a moving budget.

Some moving companies, such as Paramount Moving, can help you with this.

Prepare your household items for transport.

This may involve decluttering your home and deciding what items you need.
These are a few of the preliminary steps to organizing your move, but now, let's add the element of moving with kids and consider these recommendations to help you.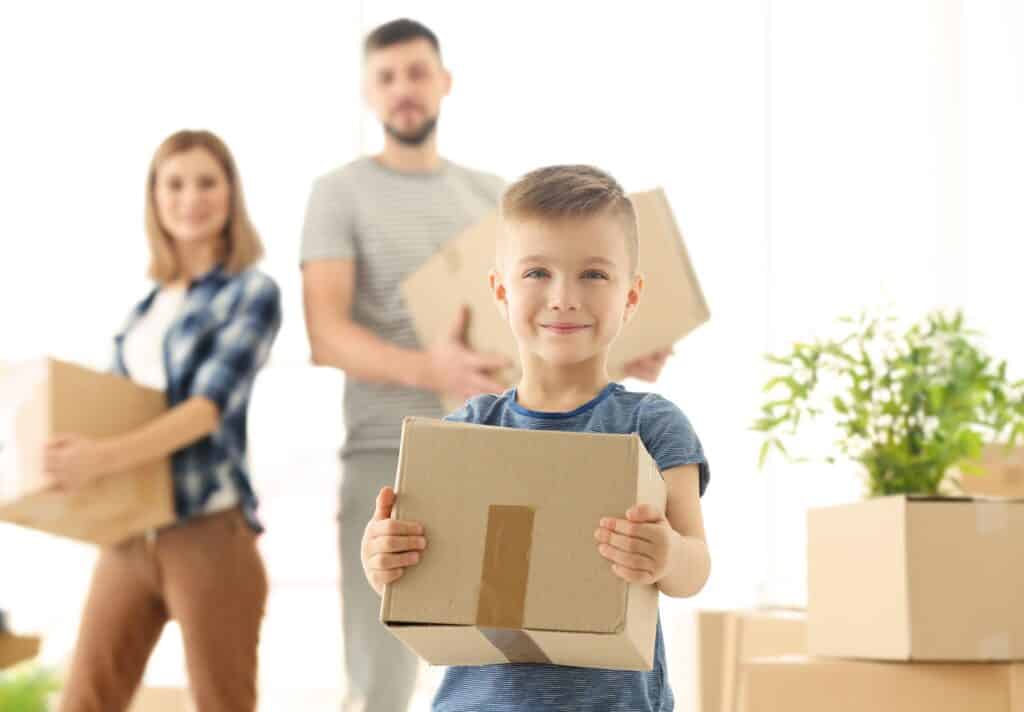 GET EVERYONE INVOLVED: SET UP A MEETING
Family psychological research reveals that involving your children in your moving plans helps them to prepare for the process with less stress. Depending on the age of your children, the meeting can be as simple as a special meal where you talk about the move and all the things that you, as a family, can expect. Remember to create a warm, supportive atmosphere from the beginning to the end of the meeting. Look for creative and meaningful ways your children can contribute to the move. Be sure to involve them as much as is reasonably possible.
…AND BABY MAKES THREE: MOVING WITH A BABY 
Here is where planning your move is the most important. We have found that families moving with a baby have many more things to think about when it comes to moving with kids. We would recommend that you take all the time that is necessary to take care of your baby's needs as well as the move itself.
One very helpful step to take is to set up a "moving checklist". The internet has many lists you could consider, but work with your moving company as you prepare your list to see if you have remembered everything to help you.
To that moving checklist, we recommend the following items to add to the list:
A sturdy stroller or a carrier

Disposable diapers

Baby wipes

Suitable baby formula and food

Some full changes of clothes, avoid just tops or bottoms

A favourite pacifier, toy, or teether, if needed.

Any medications

A first aid kit with baby-related items

Familiar creams, shampoos, and soaps

Essential documents, showing recent vaccinations, birth certificates
ADVICE IF MOVING WITH PRE-TEENS
This is a diverse group of children, but several things are common to them all:
They still rely on your encouragement and support.

They can help with different kinds of packing and moving, downsizing and organizing.

They may be able to enlist their friends to help them with the packing and cleaning.
Depending on the age of your children, we have some other tips to help you.
Encourage them to find ways they can keep in touch with their friends

Look for fun activities your kids and their friends can enjoy as part of your move.

Check out the new location together and make note of things you can enjoy as a family

when you finally get settled into your new home
MOVING WITH TEENAGERS: SOME TIPS
On one hand, with a teenager as part of your household, moving can be a bit easier than moving with pre-teens.  On the other hand, moving with a teenager has challenges of its own. Although a teenager may rely on parents less during the move, the move itself can affect the teenager in two ways:
Changing ways they connect with old friends and

Taking on the challenge of starting new relationships in their new community. For some teenagers, these can become overwhelming experiences, affecting how they work with their families who are moving. What can be done? We have some tips to help you:

Encourage your teens to organize their own farewells. Some may want to organize a special party; some may want to have a sleepover, inviting their closest friends for a bit of farewell fun.  Others may want to have a games night or see a movie together. Whatever kind of event they choose, let your teen organize it for themselves. Parents who try to arrange these events are only adding to the stress of the move even more. Often, the teenager may be reluctant to accept the help, or worse, reject it strongly, adding to more moving stress.
Develop your teenager's emerging independence. Offer them bigger roles for some decisions they can take on for themselves. One recommendation is to set aside a budget for your teenagers to plan the decoration of their new room.
WITH YOUR CHILDREN: PLAN A YARD SALE
For older children, and even teenagers, one thing you can plan together to make your move even more enjoyable is to organize some kind of sale.  Downsizing is strongly suggested if you are moving, but this kind of family activity can make the move a bit more fun. Keep these things in mind though:
1)  Before you start to organize the sale, have your children set aside special items that have special emotional value to them. When moving with kids, be sure to take the time to let them choose items they really want with them.
2) After the items are set aside, get ready to sell the remaining items, things you are sure you can leave behind. 
3) To add even more fun, consider the sale as a way to save for something your children will be able to enjoy at their new home. Make sure it is motivating enough to encourage each one to want to participate in the sale. Some families may purchase a pet or add the money to an account to purchase some special recreational equipment.  Use your imagination, but think of a goal you can work toward with your sale.
SHARE THE EXPERIENCE: BOTH PACKING AND UNPACKING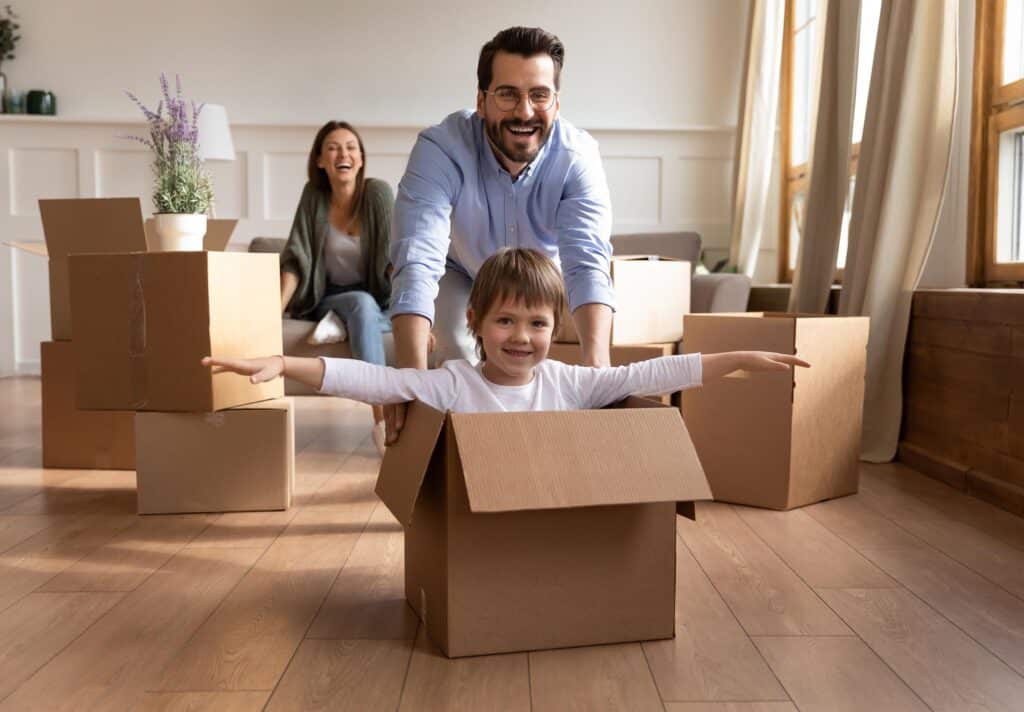 We have encouraged families with children to involve them in all aspects of the move. Using your own creativity, we are sure you will have ideas of your own. Here are some of our own ideas:
Have the neater printers in your home make labels

Older ones can put together the boxes used for packing

Younger children can help another parent with sweeping or cleaning up

Have children write packing lists of what is in each box
After you have moved in, it follows that everyone will help to unpack. However, here are some guidelines:
Work on one box at a time and share the decision-making about where items will go

in the house. This helps your "residence" begin to feel more like a "home."

** Note: Be sure to give children objects to place in your home that are appropriate

for each age level.

If you have made packing lists, then double check with your children about the contents

in each box you open.

Keep the clutter of unpacking under control. Break down boxes and put any packing

materials in appropriate bins or bags for recycling or the landfill.

     
SETTLING IN: MAKING THE NEW FEEL "LIKE HOME"
At Paramount Moving, we deal with a kind of stress that often happens. We call it "moving stress." In addition to adults feeling this stress, when you are moving with kids, the children feel it even more and in different ways. Here are some ideas to consider to help make your new location feel like home:
If possible, take daily walks together around your neighbourhood.

Choose different streets to explore and see what special places are in your new

neighbourhood.

Take pictures of yourselves with your children at new parks and other venues and share

them together.

Create special memories that will help to make your new place feel more familiar.

Set aside some time each evening to talk about your new neighbourhood.

Look for positive, encouraging, and upbeat things about your new place. Avoid the

temptation of reminiscing about what you "used to have" or "used to see." That will

have its place…later. For now, build good, positive, and lasting memories with your

kids in their new home.
MAKING THE STRESS…LESS: ENJOY THESE TIPS
At Paramount Moving, we understand how moving with kids can be a challenge…at any age. We hope our tips and hints will help you. Parenting is tough, and moving is tough. Pay attention to your child's needs, and keep your moving date in mind as well. Plan well, make it your goal to enjoy each day together as you pack and then unpack. If you need more advice, Paramount Moving will be there for you, helping to make your moving stress…less.
The task of moving can feel like … moving a mountain!
WE'RE PARAMOUNT MOVING: WE MOVE MOUNTAINS – ONE ROCK AT A TIME!